Greetings all,

Thank you for visiting. My name is Denis. Born in the Marquesas Island in 1955, I got my ticket in 1984, call was FO8MD

My station has changed throughout the years,

- Started with a Belcom LS102-X (10m band only) with a home brew 3 el Yagi
- After a while, add a Yaesu FT-757GX II with home brew 4 band vertical antenna covering 10 to 40m
- Sold the FT-757GX-II got the Kenwood TS-940S, then a VIC20 computer used mainly for RTTY
- After some years of great fun I lost everything in a fire caused by a neighbour (1990).
- In 2004 got a Yaesu FT-897D, put up a 40m vertical antenna and start again QSOing from time to time
- 2007 buy a FT-101ZD and FT-102 (ebay), but the rigs are left in France at my brother QTH
- 2011 got a Drake TR-4Cw from a fellow ham here, still looking for a powersupply to start playing with
- september 2012 starting QSOing again with my FT-897D and a home brew 4 band vertical ant.
- december Santa gave me a YAESU FT-950, + got a FT-1000D from a fellow HAM here

Now I work mostly CW - FISTS #14153, SKCC #9940, CTC #3052, 9A QRP #108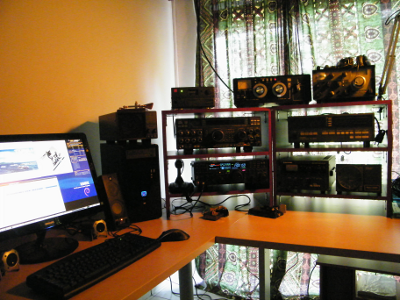 At the moment my station includes :

Main TX : YAESU FTDX-5000 Limited
Spare : YAESU FTDX-3000D
Antenna : COMET CHA-250BX
Portable: YAESU FT-897D
Other : I1QOD Magnetic Side Swiper and N3ZN Single lever iambic keys
Computers : PC Desktop and Laptops
OS : Debian GNU/Linux

CLUB: FISTS #14153, SKCC #9940, CDXC #1583 CTC #3052, 9A QRP #108.

QSL Policy : I upload my logs here, on HamQTH, ClubLOG, LoTW and to my QSL manager.
Each and every incoming direct QSL card MUST be addressed to EB7DX. No BURO QSL

Sorry No Facebook. No Twitter. No Google+.
73 DE FO5MD OP Denis +